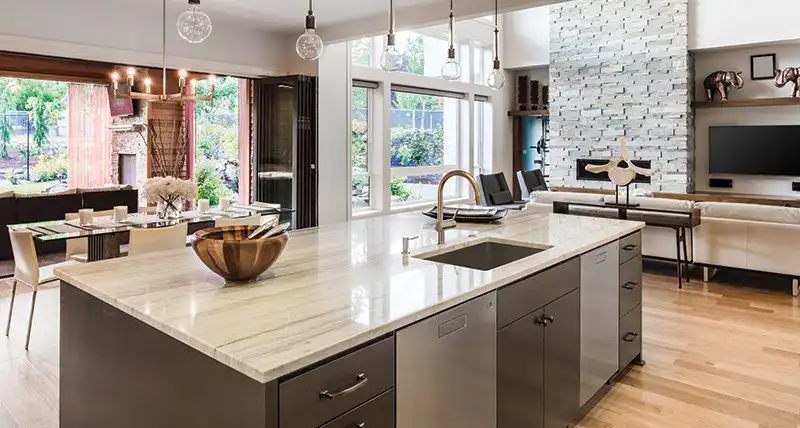 Standard Build Quality & Features
We specialize in building our customer's dreams. There's nothing we can't build at a very reasonable price. 
Full 9' basement poured wall. 

(10' optional)

Footer drain tile– crush ratio drain 

tile with fittings inside and outside.

Inside drain tile with drain holes 

through footers for overload drain water.

20-year waterproofing / 

foundation system.

All downspout drains, tile 2,000 lb. 

crush capacity.

Support ledge and re-bar for all concrete 

areas where settling may occur, to help concrete steps and stoops not to sink or fall away from foundation.

Premium fill in all concrete areas to 

prevent settling.

Vapor barrier under basement 

floor to prevent damp concrete.

Center support beams are to 

engineered specs, used to eliminate shifting and minimize drywall nail pops and movement.
36" x 24" vented glass block basement windows or tilt in windows.
#1 grade 2×6 studs for framing  exterior walls.
7/16 OSB on all exterior walls for  stronger house instead of wind bracing.
Anderson Silverline windows to owner's specs with lifetime warranties.
Huber water repellent OSB ¾" tongue  and groove glued and nailed subfloor.
 Seamless 5" and 6" aluminum gutters  and downspouts piped to underground storm sewer system.
PEX/HDPE plumbing supply lines.
200 AMP incoming service panel.
Minimum one (1) G.F.I. exterior  receptacle next to each exit door.
R-19, R-40 minimum insulation with  caulk and seal package with Packed fiberglass insulation around all window and door frames and blown
R-40 in all flat ceiling areas.
90% and above efficiency furnace with  air conditioning.
Curtain rod and towel bar blocking  in walls.
Micro-lam beam above all garage  headers to eliminate sagging over garage doors.
Drywall screwed and glued to walls and ceilings; nails used to start hanging.
Thirty-year architectural design shingles with ice and water shield in all valleys, saddles, and adjoining roof areas.
All cabinets and built-ins Custom or from preferred supplier, built according to owner's blueprints and/or homeowner design.
Fan/light or light only ceiling mounts/ boxes installed in all areas.
All custom-built fireplace mantels, bookshelves, and light boxes, if applicable.
Wayne Dalton raised panel garage doors per plan.
All countertops with wide choice of granite, quartz or Corian.
Choice of door panel design; paint or stain grade.
If painted woodwork, 2 coats of lacquer, any color, with acrylic hardener. Hand rubbed between coats.
All casing areas are biscuit joined and pinned for form fit.
Our standard size is oversized 5" baseboard, 2 ¾" casings and two-piece 6" crown molding (3 ½" by 1 ½" thick).
Kitchen tile back-splash to bottom of top cabinets.
Recessed can lights, any location. (Number depends on contract)
Drywall (Rolled Texture) finished garage. Insulated Garage.
One-piece acrylic tub and shower for less maintenance/cleaning application.
All Moen Eva upgraded faucets.
All Kohler or Mansfield water toilet with comfort height design.
Flooring- Standard is calculated on house size, with premium materials per homeowner selections.
Floor drain with hot and cold water in garage and 2 outside faucets.
Three-foot front doors.
All homes finish graded.
Customer will make all exterior and interior color choices (stain, floors, paint, etc.) with 5 color choices for paint (more can be discussed).
Stone is done as an allowance and picked out by the customer.
Premium Super Polymer "Provia Heartech" Vinyl siding resists fading, cracking and thermal